Selected projects are recent projects that Baan Noorg was curated to join, co-organized and/or co-operated with.
2021 Jakarta Biennale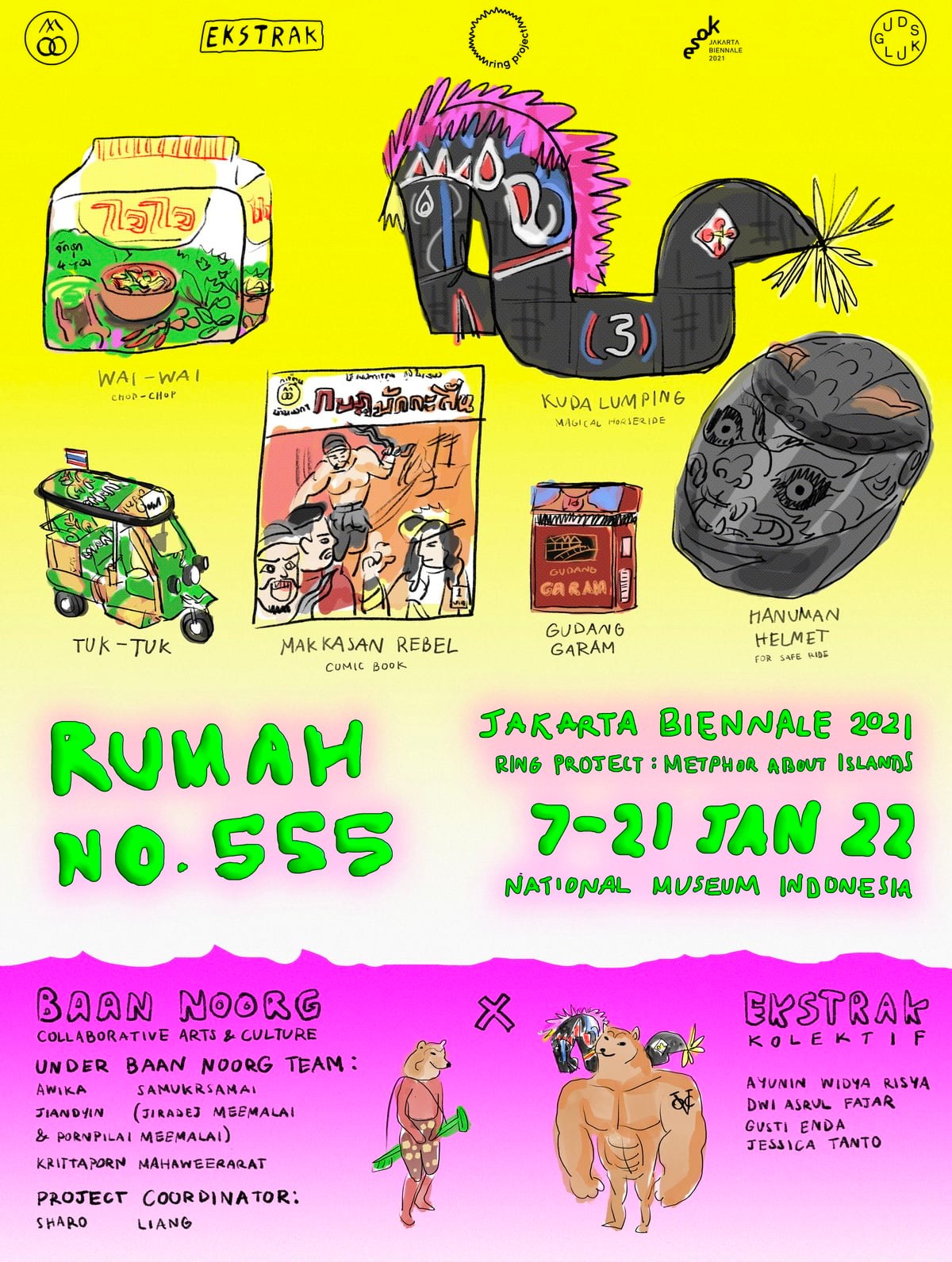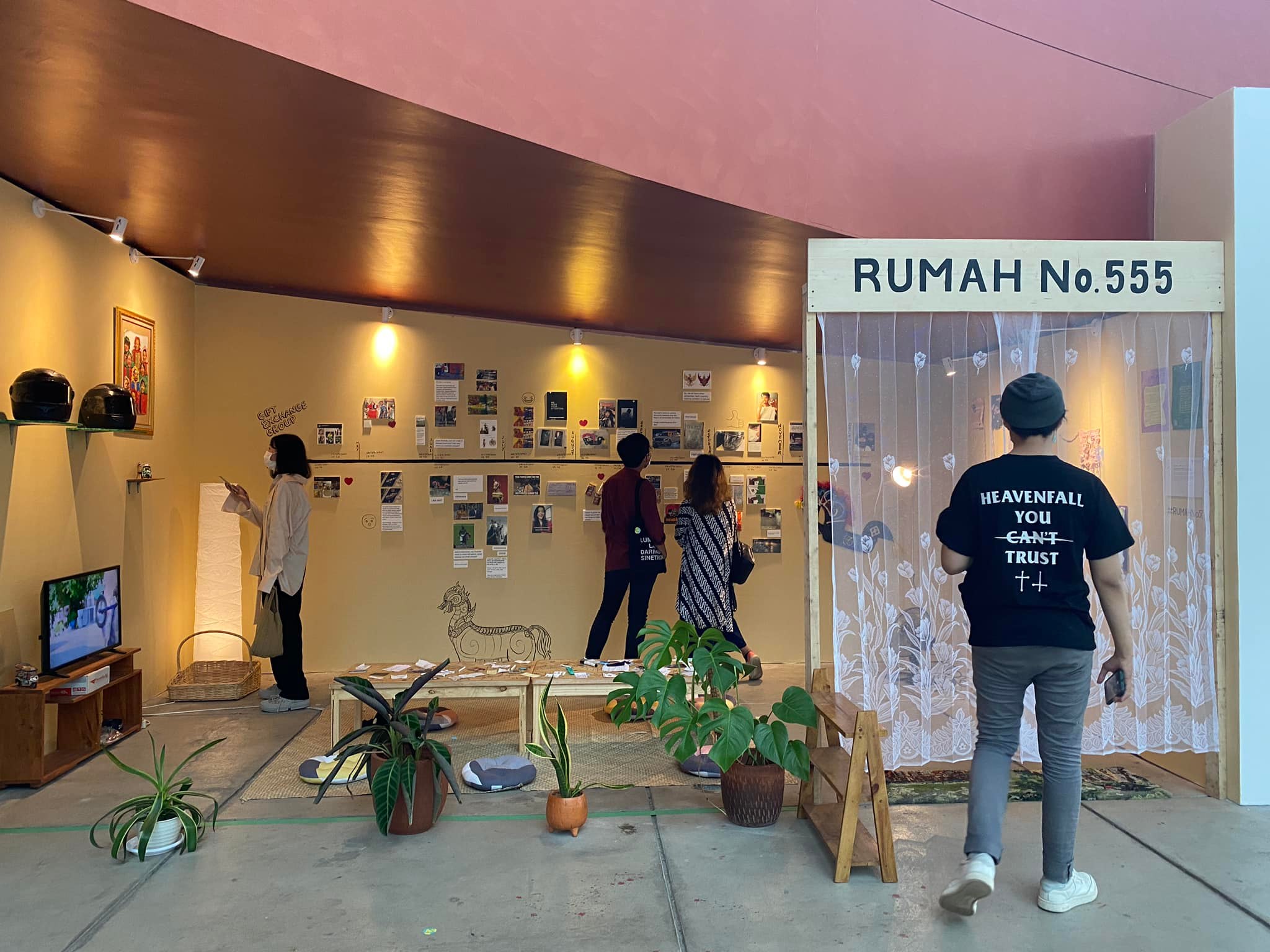 Ring Project #1, 7-21 Jan 2022 Jakarta National Museum: Metaphors About Islands is a result of interlocal collaborative art projects initiated and co-curated by Gudskul (Jakarta) and Sandy Lo (Taipei). Pieces of process from these artists and collectives from around the world and time zone complete a series and concept of Jakarta Biennale 2021: ESOK in National Museum, Jakarta. BAAN NOORG, participating artists: Awika Samukrsaman, Krittaporn Mahaweerarat and jiandyin (Pornpilai Meemalai and Jiradek Meemalai) was paired with Ekstrak Collective, a collective from Jakarta, participating artists: Ayunin Widya Risya, Dwi Asrul Fajar, Gusti Enda, Jessica Tanto. They created a project titled: Rumah555 for Ring Project #1. RUMAH NO.555, keywords: Island vs Mainland > Maritime diplomacy, the compromising of differences or the unsafe (Fear), negotiation / the strategy = Recipe, to cultivate something / the benefit of exchange, Diplomacy is for living; was a concept of co-creating a safe space, decorated with gifts sent by Baan Noorg to Ekstrak and Ekstrak to Baan Noorg. The two collectives started exchanging and trading objects and messages(and memes) similarly to their past maritime diplomacy between Siam and Batavia, fulfilling what they lacked in order to feel safe.
https://jakartabiennale.id/2021/collaborations/ring-project-metaphors-about-islands/?fbclid=IwAR3nLWFLnlaqD7YFA-Pk4uuCJImS0EVkEtdBDm4euvHVBX920t7H6Mc8LN0

2021 Where I'm Coming From project
Curated by Linda Rocco and Rhine Bernardino, organized by the Inventory Platform
Where I'm Coming From strives to connect and work with community groups in the UK and internationally by inviting them to lead cooking sessions. Through this, the programme invites the public to learn about each cultural group's cuisine, which also allows them to reproduce and engage in their own homes.
organized by the Inventory Platform
Cooking Session: Saroot Supasutthivech, Baan Noorg Collaborative arts & culture
The Surrogation of the Spirits Dancing on the Ceremonial Ground
HD digital video color, audio 2 channel, 06:30 min 

Brief description: The video creation of " The Surrogation of the Spirits Dancing on the Ceremonial Ground"  portrays the images of grandfather/grandmother shrine, votive offering dance, and the  cooking of food for offering with the narration about the history of the ethnic group and  their offerings making process https://whereimcomingfrom.online/thai/ http://www.inventoryplatform.org

2021 Trans-southeast Asia triennial, Art Museum of  Guangzhou Academy of Fine Arts (Oct – Dec 2021)
curated by Cathleen Siming (Pan Siming) and Stephanie Lu (Lu Sipei)

The project invited four groups of alternative spaces/associations initiated by artists to participate in an attempt to present the mutual enrichment of artistic creation and its platform formation. Participants have conducted long-term local practice in Ratchaburi Province, Thailand, Quezon City, Manila, Singapore and Guangzhou with their respective mediums, and practiced the action of "participation" in specific social contexts and experiences, from "consciousness" ", "Involvement", "Participate" to "Participatory". The experience of these spatial practices is scattered in the exhibition area into rooms with different degrees of openness but distinct personalities, translating the practice process for the audience who cannot be synchronized in artistic creation, and inviting the audience to participate in the assembly in this exhibition.